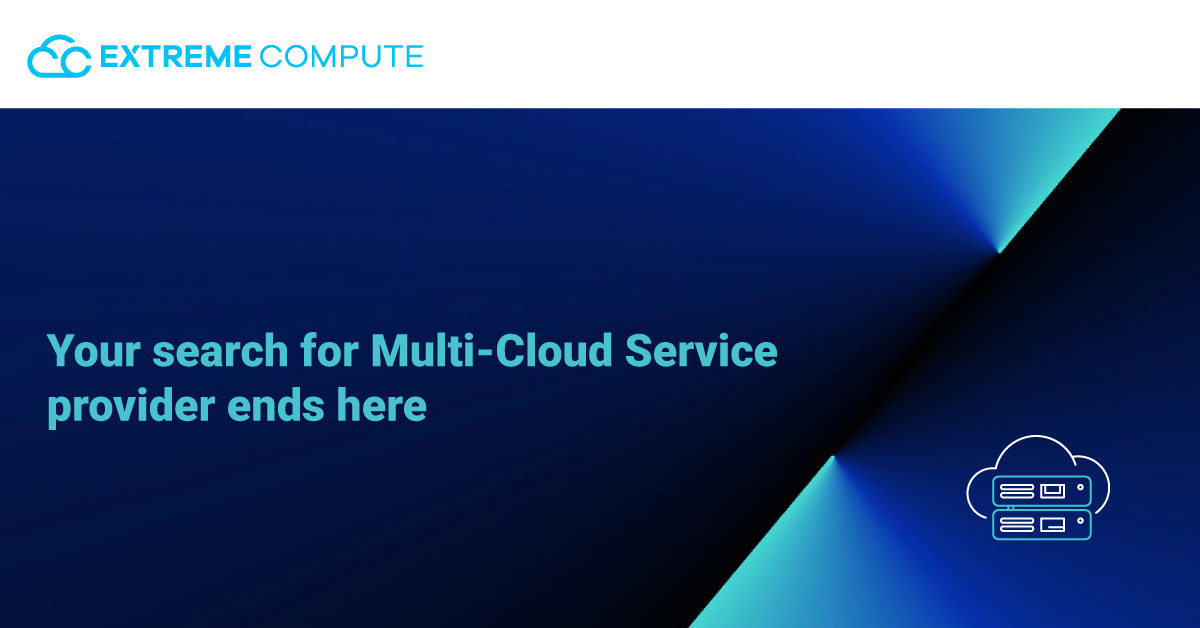 Over time, the digitization of businesses and the way in which IT supports the needs of the companies have changed significantly. Today, different IT workloads can be implemented on different types of cloud services, based on business requirements. As a result, many IT departments are shifting their resources to digital cloud and multi-cloud environments. The key factors that attract business to this cloud-based model are reduced costs, quicker delivery, increased scalability, improved flexibility, increased productivity, lower total cost of ownership, and lower capital & operating costs, among others. In fact, the pay-as-you-go system has provided businesses with a new level of financial flexibility, as they only pay for what they use.
A multi-cloud management platform allows organizations to control workloads and applications across all domain delivery types, including public, private and hybrid. Using the right platform for this workload allows businesses to achieve favorable business outcomes.
The multi-cloud services enable the transition to the IT-as-Service (ITaaS) model, where IT departments serves as service brokers and support organizations to maximize their IT infrastructure use. In addition, the advantages of cloud computing, such as cost savings, faster time on the market, versatility and efficiency, would require the introduction of multi- cloud management in the future.
MULTI-CLOUD MANAGEMENT:
Multi-cloud management is an open cloud system offered "as – a-service"; to provide flexibility for companies and allow the management of multiple cloud services such as IaaS, PaaS and SaaS. In a multi-cloud environment, companies can transfer their workload to multiple clouds depending on the criticality of data and applications. Nevertheless, multi-cloud management is distinct from the hybrid domain deployment model.
Hybrid cloud is an automated service provided both internally and externally. It is the amalgamation of both private and public clouds, providing the advantages of both deployment models at the same time. Enterprises require multiple cloud implementations to meet the needs of multiple applications, resources, teams, and others. Many agencies are faced with a diverse set of challenges.
For example, legal, procurement and finance departments are concerned about security and regulation, choosing a private cloud delivery model. Developers are also worried with coding and prefer the Platform as a cloud service (PaaS) template. Marketing and sales teams prefer the browser-based Customer Relationship Management (CRM) model, while preferring the Software as a Service (SaaS) model.
Multi Cloud Management Market Network
This environment includes CSPs, a multi-cloud management network, and end-users. The multi-cloud management platform includes dashboards, resources, monitoring, development, catalogs and the marketplace. Those features are further combined with the cloud services offered by CSPs. Multi-cloud management systems allow end-users to manage and deploy workloads on multiple clouds easily, avoid vendor lock-in, reduce costs and increase overall productivity.
CASE STUDY : A financial institution uses a number of cloud services from a single CSP. Since CSP provides fair rates to its customers using different cloud services, the financial institution is unable to compare the capabilities of the various cloud services. The financial institution is mainly concerned with data security and the difficulty of managing multiple vendors. Extreme Compute's multi-cloud management system allows financial institutions flexibility to make the most of the best cloud services from various CSPs. In addition, the organization can also monitor utilization, reduce costs, remove vendor lock-in and gain visibility of each cloud service from multiple cloud providers, along with enhanced fair pricing and specified SLAs.
Multi-cloud is a system where various clouds from different providers are used to perform separate tasks. To automate the task and optimize costs, businesses need a robust multi-cloud management platform. The growing need for different applications is driving the adoption of multi-cloud management systems among end-users. With the introduction of a multi-cloud management platform, organizations will significantly reduce their reliance on a single provider. Enterprises running multiple clouds can have better pricing control and make full use of the latest technology advancements. In the past few months, businesses have realized the importance of the multi-cloud management platform and are entering the market rapidly due to the enormous potential for growth in the coming years.
Extreme Compute, an Enterprise ready cloud, is one of the leading suppliers operating in the multi-cloud management sector. The company offers a multi-cloud management platform and cloud brokerage products to companies as well as the government and education sectors. The company focuses on providing better prices, better coverage, better performance, better service and Better Clouds to businesses through its multi-cloud management platform. Nowadays, organizations are expected to build business models around cloud services, and many are looking for the best cloud management platform to meet their specific business, technology requirements, and objectives. It is becoming extremely important that service providers become enterprise ready.