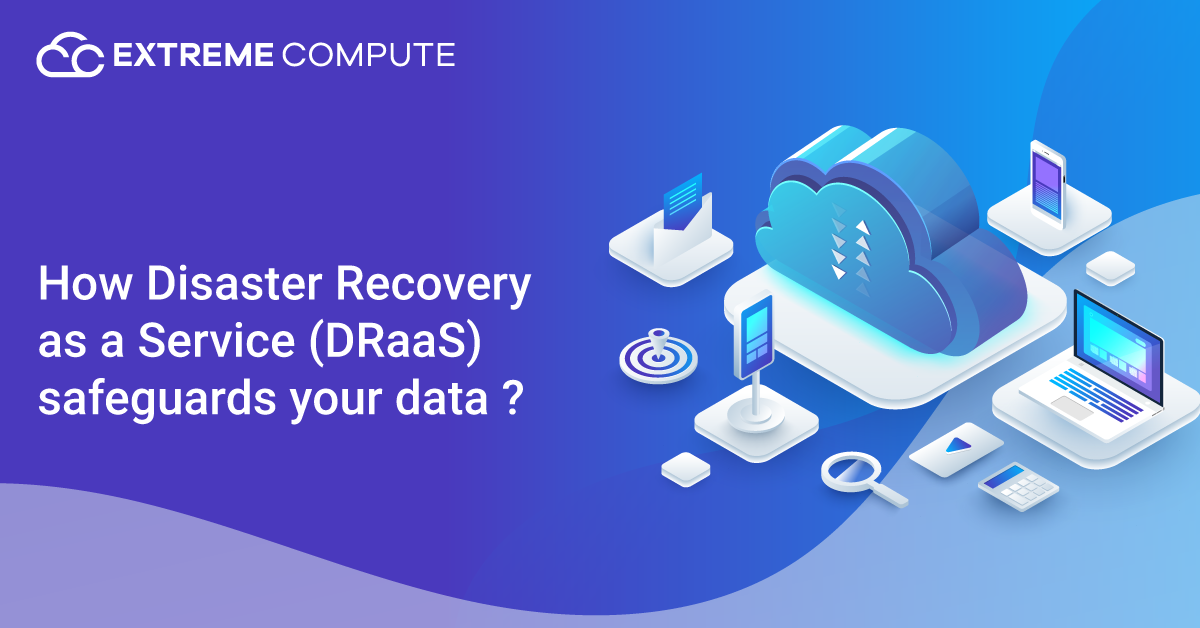 Whenever there is a failure event in your data, disaster recovery as a service (DRaaS) is a cloud-based solution offered by third-party cloud providers to organizations to ensure data protection and avoid complete loss.
What is the Benefit of DRaaS?
Thousands of companies around the world are affected by natural disasters. Consider what would happen if your data center experienced a power outage, hardware failure, earthquake, flood etc. Eventually, major disruptions, such as your website going down or losing all of your customer data, are almost certain to occur.
DRaaS allows for complete replication and backup of all cloud data and applications while still acting as a backup system. It effectively becomes a new normal, allowing a company and its users to carry on with their daily business operations while the primary system is being repaired. DRaaS enables these programs to run on virtual machines (VM) at any time, even though a real catastrophe has occurred.
How does it work?
Disaster recovery as a process, or third-party replication and hosting of physical or virtual servers, is possible through cloud computing, allowing for failover in the event of a business interruption or failure. The following are the key steps in the procedure:
Replication: Data from a primary site is duplicated and sent to a disaster recovery service provider, who manages the environment remotely. Since most organizations' infrastructure depends on both, it's critical that replication involves virtual and physical servers or provides a "hybrid" solution. If data is regularly added or changed, the DRaaS solution should allow for daily data snapshots to prevent data loss during failover.
Failover: During a disaster, end-user access is moved to a secondary site hosted by the disaster recovery service provider. For DRaaS solutions, speed is critical, as any downtime can be harmful to the business.
DRaaS for Business Operations:
A catastrophe can strike any organization. Whether you're a small-to-medium-sized company or a global corporation, losing sensitive data or consumer information can be devastating. Smaller businesses face greater risks because they can lack the personnel and budget to defend themselves from threats, potentially putting them out of business.
For a prolonged period of time, you cannot survive without access to your most important data. If it's due to human error, malware, or a natural disaster, the consequences can be catastrophic. There is no such thing as a disaster recovery solution that suits all. You will keep up and running by combining backup computer software technology with a reliable IT disaster recovery plan. However, your disaster recovery solution requirements are as distinct as your business.
The following factors will help you decide which course of action is best for you.
Recovering Point Objective(RPO): The longest period of time you are prepared to lose data on your systems as a result of an incident.
Recover Time Objective(RTO): How quickly you can recover from a failure to the point that you can resume regular operations.
Final Thoughts:
DRaaS is a hot topic in the business world right now, particularly as cloud capabilities develop and expand. As a result, understanding this service is critical for disaster recovery that keeps up with ever-changing market models and data storage requirements.
To ensure that DRaaS works, it's always a good idea to seek out consulting experts who can help you make the best decision possible. Together, you'll be able to build a business continuity plan you can trust, and choose a DRaaS provider that's ideal for future business and peace of mind.
{{cta('008d9ed3-3b50-4e38-bece-f483b642d549')}}