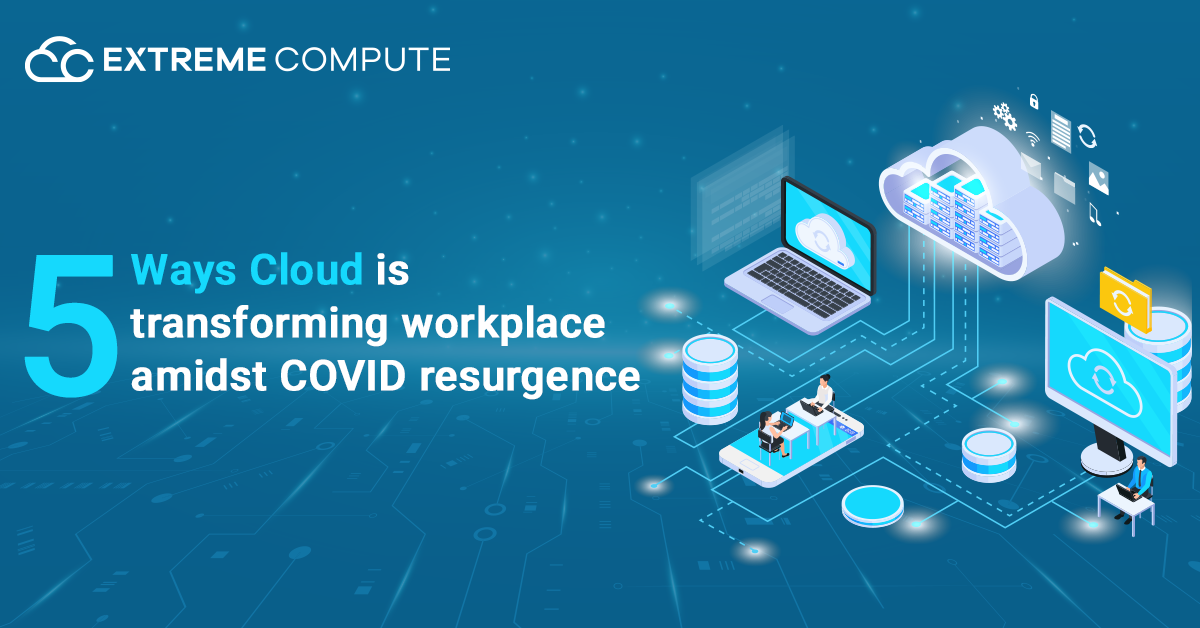 The pandemic has accelerated the demand for cloud technology expertise, which is at an all-time high. If more companies continue to migrate to cloud services, the ongoing second wave of Covid-19 cases is only increasing demand. As companies went through lockdowns and employee mobility was limited, businesses scrambled to put the necessary infrastructure in place over night. To ensure business continuity, they needed to allow work-from-home options. And, in today's digital-first environment, the use of cloud and other technology is hastening the transition.
How Cloud is tackling Covid resurgence?
By default, working from home is a feature of information technology. Digital tools that empower workers to deliver their work efficiently and allow organizations to remain agile are among the requirements of a remote work model. Companies can keep up with a complex and volatile external forces by providing a versatile and sensitive workplace. Then there's the never-ending war between data access and security. With the following ways, the cloud is helping drive the workplace transformation:
Employee Experience Reimagined:
Employees' perceptions of work and the workplace are major determinants of success and sustainability in today's business world. The overlap between work and personal lives grows as homes are reorganized to suit the home office. Although working from home necessitates fundamental changes in employee characteristics such as higher EQ and empathy, the model also necessitates changes in policy and cloud-based tools to provide the infrastructure required to provide a positive experience. When businesses invest in building the workplace of the future, increasing employee engagement and experience has become a top priority for both people and business leaders.
To meet the needs of employees, you'll need scalability and agility :
A quick-to-deploy solution, accompanied by the provision of facilities that eliminates the need for capital expenditure, is a critical factor as businesses embark on mass digitization projects to handle a dispersed workforce in an unpredictable business climate. Cloud apps have scalability and versatility without sacrificing the solution's effectiveness. Pay-as-you-go and on-demand licensing models allow for greater flexibility while requiring little to no infrastructure investment.
For improved efficiency, seamless collaboration is important :
The inability of fragmented teams to interact seamlessly, which affected efficiency, usage, and had a cascading effect on organizational culture and people function, was a major impediment to the introduction of telecommuting in the pre-pandemic era. Early adopters have shown that the right technology and resources will assist businesses and workers in making the transition. And we're seeing a new wave of cloud-based products that provide a much superior, interactive, and immersive interface, allowing teams to work more effectively even in virtual environments.
Data and new technologies work together to provide valuable intelligence:
Sensor technology advancements have aided in the advancement of the idea of smart factories and wired equipment. The use of IoT in conjunction with a completely digital workplace produces a wealth of information. Organizations can implement analytics to extract valuable intelligence at the click of a button, thanks to the cloud as a source of data and computing. A second layer of AI/ML tools can help collect user behavior data so that the system can self-learn, develop, and provide a more customized content.
Finding the right combination between security and accessibility:
Employee access to data is essential in a remote working environment, particularly for companies that deal with valuable and sensitive data. The task is to strike a balance between access and security while maintaining operational efficiency. Companies would need to have a centralized interface that allows workers to execute multiple work-related activities within a single-window situated within the expanded security perimeter as the workplace infrastructure expands beyond the conventional business architecture. Cloud apps are not only practical, but they are also transformational and scalable due to their transparency and intuitive design.
Cloud-based digital tools will play a significant role in promoting organizational change and speeding our path towards a smart workplace, as the future belongs to the hybrid work paradigm. To do so effectively, CIOs will need to consider how they are utilizing the cloud's pay-as-you-go "as a service" model, as well as whether they are leveraging technology like cloud virtualization to improve productivity or unlock revenue opportunities. Consider and lead with a cloud-first mindset. Whatever the strategic vision is, corporate leaders should ensure that it is the center of attention, that everyone in the organization is aware of it, and that everything is measured against it. The cloud journey has been re-energized by a new vision and strategy, and it is now the forum for unlocking innovative business models.