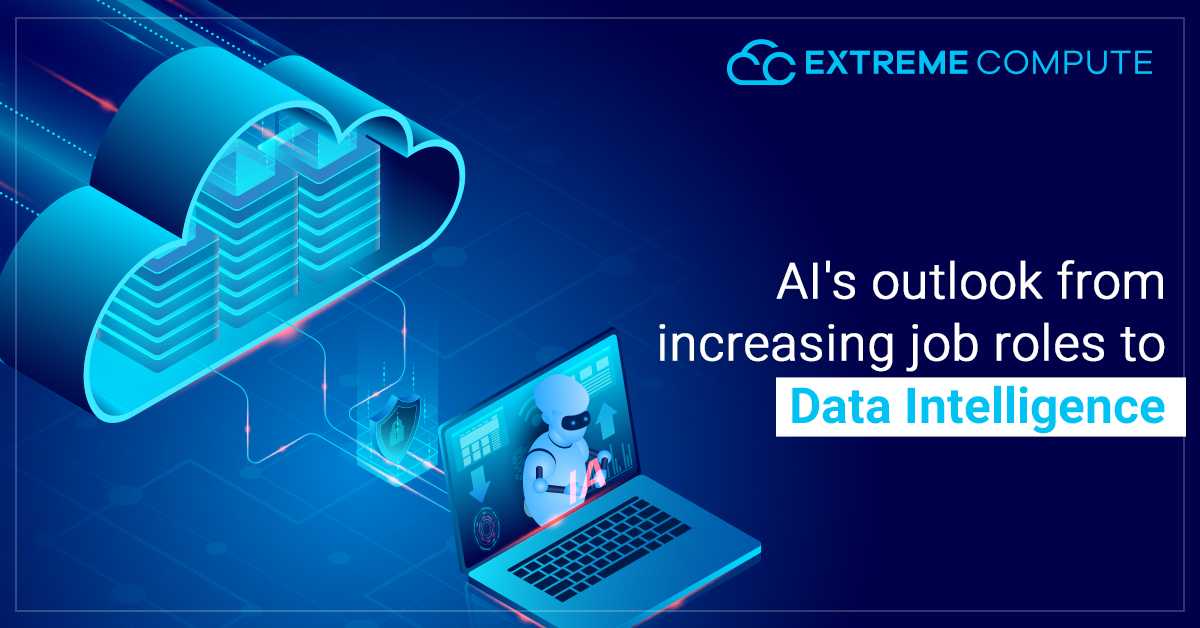 While job openings in various industries are decreasing, demand for cutting-edge technology such as cloud, artificial intelligence (AI), and robotics has increased in many cities across the country. Cloud Computing is by far the most in-demand technology capability in the advertised positions, indicating that, as a result of the pandemic, a larger number of businesses turned to cloud services to help their virtual workforces and transform their businesses.
In addition, work listings for AI skills have increased by 73 percent in the last six months. Robotics jobs have increased by nearly two-thirds, with high demand for blockchain and quantum computing skills. AI is developing new work positions and opportunities all over the world as part of the transformation process. Let's take a look at AI's approach to data cloud management.
AI's path on Data Intelligence and ROI
Artificial intelligence (AI) can be especially useful in this context because of the emphasis on data. A company can monetize information quickly and effectively by using the cloud and AI for data storage, processing, and analysis. Mastering data management across the cloud will remain a top priority for many IT departments as they are increasingly asked to boost business agility through the creation of better business intelligence. As a result, data science, which encompasses AI, machine learning, automation, data storage, and more, will experience massive growth this year and in the coming years.
Because of its unique ability to provide businesses with versatility, agility, scalability, and speed that other technology models simply cannot match, the cloud is best suited to assist organizations in AI. If a company's core business isn't datacenter management, the cloud is even more enticing, since it frees up IT teams to work on initiatives that will actually benefit employees and consumers. AI is one of several technologies that will help us get there, and now the cloud is the framework that will enable AI to function. The aim to use the cloud for AI is to help advance analytics while also avoiding data silos, where information is scattered around hard-to-reach locations and becomes difficult to exploit. Data must be easily accessible while remaining stable, which is why the cloud could be the best option.
Why AI-as-a-Service could be the Standard in the Future
In certain cases, implementing AI on your own can be costly, particularly if it necessitates the hiring of data scientists. As a result, many companies will opt for a third-party partner over self-service to extract value. Companies will be able to use AI for their own data science programs using an AI as a service approach, without the high costs. According to industry forecasts, the global AI market will be worth more than $89 billion per year by 2025. The more artificial intelligence is used to power cloud computing, the higher this value will become. In exchange, cloud computing can serve as a catalyst for increasing the effect AI can have across a broader sector, including a variety of industries.
Bear in mind how AI will play a critical role in business competition in the future, so you can start thinking about how to best use Artificial Intelligence now. The cloud is an excellent place to start using AI on datasets because of its simplicity and scalability, which allows for any required pivoting to meet challenges. Employees must exchange input with each other and the leadership team in all multi-line companies that provide solutions for a variety of scenarios, so that appropriate improvements in product offerings can be made. It's all about keeping the different parts of the company in line as AI evolves in a cohesive manner.