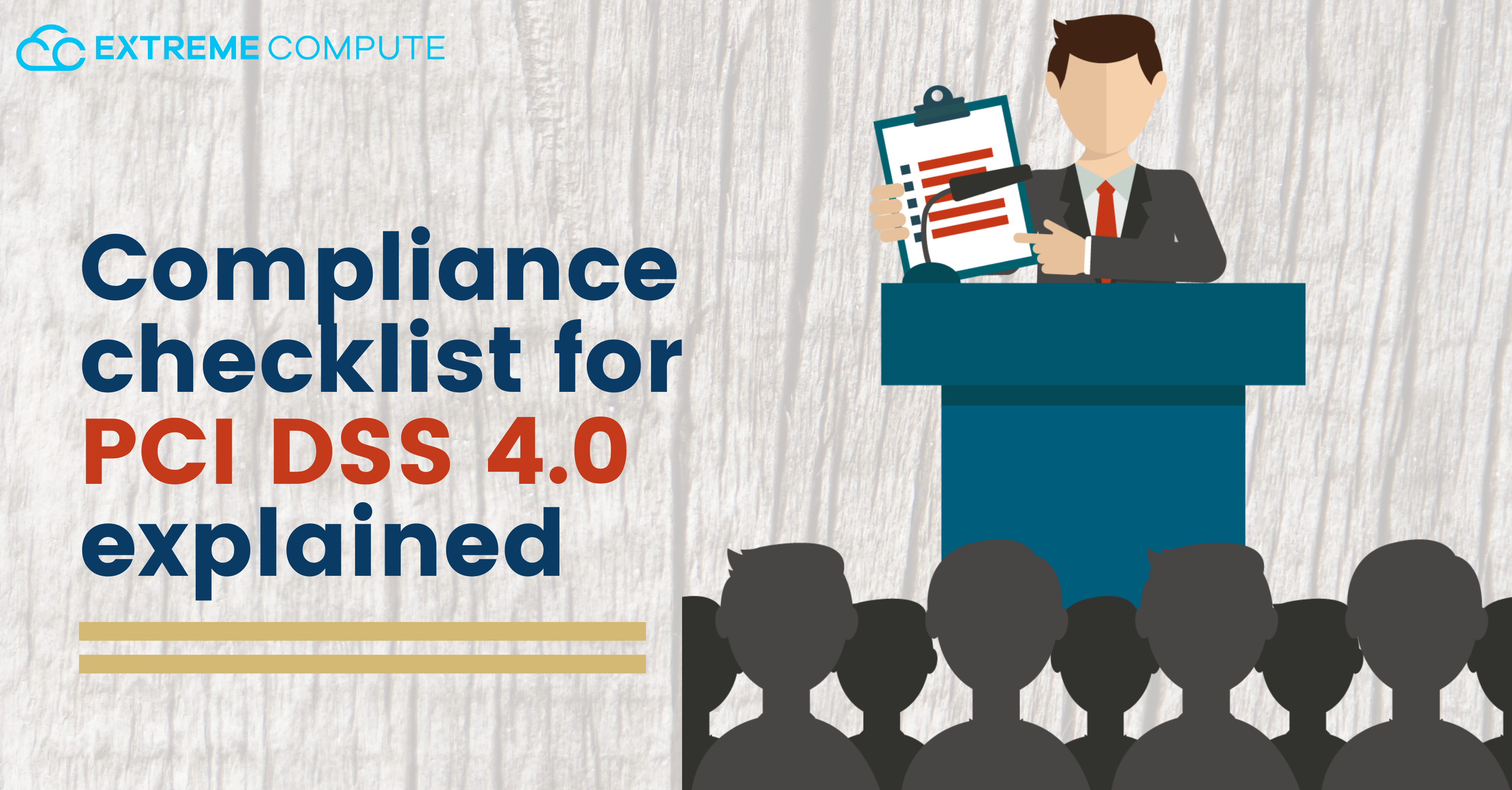 This year, the use of digital payments is likely continue to soar. Following a 40% growth in 2021, digital payment transactions are likely to continue to grow. Because of this, merchants and payment processors must assure the security and privacy of every transaction. To safeguard the entire payment card value chain, the PCI DSS was developed. Everything from storing cardholder data to accessing private payment data is covered by the PCI DSS regulations.
As dangers and technology change, so do PCI DSS requirements. The new PCI DSS 4.0 requirements should be known by those who handle cardholder data. Our PCI DSS 4.0 compliance checklist may assist with everything from data encryption to network security and monitoring.
Requirements of PCI DSS 12 Checklist for PCI DSS Compliance
PCI DSS compliance is required for all businesses that store, handle, or transfer cardholder data. The PCI Standards Security Council has set ambitious targets for PCI v4.0, which include the following objectives:
Ensuring that PCI security standards continue to satisfy the needs of the industry
Supporting alternative payment options increases payment security.
Ensure the safety of cardholder data is a constant concern for your company.
Improvements in validation to speed up the process of conformance.
Under PCI DSS 4.0, the following technical areas may be changed:
Password safety advice
Advanced system requirements for monitoring
More information about multi-factor authentication.
According to PCI DSS 4.0, firms can better protect customer data by incorporating security measures and access restrictions.
The 12 PCI DSS Norms. Step-by-step instructions on how to meet PCI criteria.
The PCI Data Security Standard (PCI DSS) is the path to PCI compliance. In order to safeguard client data, PCI DSS outlines a step-by-step procedure.
The first step is to install a firewall.
The first stage in PCI DSS firewall compliance is to ensure that the firewall is in full compliance with the regulations. The first line of defence against hackers is firewalls, which restrict network traffic.
Your firewall and router must be configured correctly if you want to keep the information associated with your credit or debit card secure. Determine what traffic is allowed through firewalls and routers.
Remove the vendor's defaults in step two.
Don't ever rely on the default settings of any server, networking device, or application. Wireless routers and firewalls are included in this category. Default passwords, usernames, and other security settings frequently fall short of PCI requirements.
For passwords and other security settings, PCI DSS rules prohibit the use of vendor-supplied defaults provided by the vendor. Hardening methods and new device configurations should be documented for future reference.
Cardholder data must be protected in step three.
The most important PCI DSS compliance criterion is the protection of customer data. Cardholder data must be held in a secure location and for a specific length of time. Encryption with industry-standard methods and security keys is also required.
Unawareness of unencrypted PAN storage is a common error. A card data sleuthing tool can be useful. For this PCI criterion, just the first six or last four digits of the card numbers shall be exposed..
Encrypting payment data is the fourth step in this process.
Instead than focusing on the storage of data, this PCI DSS standard focuses on the movement and transmission of such data. Open and closed networks are included in this category. Data in transit is a popular target for hackers because they believe it to be more open to attack.
Cardholder data should be readily available via a payment processor, merchant, or payment gateway. Secure techniques should be used to encrypt cardholder data before to transmission to minimise the risk of data compromise. Multi-factor authentication (MFA) will be addressed in greater detail in PCI DSS v4.0.
Step 5: Update your antivirus software on a regular basis.
Installing antivirus isn't enough for PCI-DSS compliance. Make sure your antivirus software is up-to-date and patched on a regular basis. This PCI security standard safeguards your computer systems and cardholder data from malware and viruses.
Antivirus software should be updated throughout your entire cardholder data technology environment. Servers, workstations, and laptops or mobile devices used by employees or management are all included. Antivirus software with up-to-date signatures and auditable logs should be running at all times.
Step 6: Make sure your devices and apps are safe to use.
Define and develop procedures for identifying and categorising risk next. A detailed risk assessment is required for management and use of technology in accordance with PCI guidelines.
Implementing credit card processing hardware and software might commence after a risk assessment. Another PCI DSS obligation is to apply patches as soon as possible. In addition to database patches, POS fixes, and operating system patches, these are all included in this category.
Step 7: If they don't need it, don't share it.
Roles and permissions are necessary for every organisation that handles payment card data. Only those who have a business need to know should have access to confidential cardholder data, as mandated by PCI DSS
The physical security criteria of PCI DSS must also be met by organisations. Consider the role of the employee, the seniority, and the necessity for cardholder data when developing access control policies and procedures. Keep an eye on who is using your system and what level of access they have.
User access IDs are assigned at Step 8.
PCI DSS standard number eight stipulates that each user must have a unique username and password combination. Using shared usernames and passwords is a bad idea. Compound words and numbers should be used for all login credentials.
Hackers aren't the only ones who could benefit from these measures. In the event of an internal data breach, the activities of certain users can be tracked back thanks to this. In order to ensure that only authorised individuals have access, PCI DSS requires two-factor authentication.
Access to physical data should be restricted in step 9.
There is a lot more to PCI compliance than digital security. Physical PCI DSS security must also be taken seriously by companies. PCI mandates physical access to servers, files, or workstations that store or transfer cardholder data.
Video cameras and basic electronic surveillance are also required at physical places such as file storage and data centres, according to the new regulation. For 90 days, all recordings and access logs must be retained. When not in use, all portable media containing cardholder data, such as flash drives, should be physically protected or destroyed.
Step 10: Monitor network traffic
Data from cardholders is routinely stolen from both wired and wireless networks. All network systems must be safeguarded and tracked at all times in accordance with PCI rules for this reason. Every day, a centralised server should review network activity logs.
Using a SIEM tool, you can record system activities while keeping an eye out for unusual behaviour. Keeping a year's worth of network activity audit trail records is required by PCI compliance.
Step 11: There are ongoing system and process evaluations to be conducted.
Cybercriminals and malicious actors are continually scanning systems for vulnerabilities. Hence, regular system and process testing is required per PCI requirements. It's possible to achieve this need through activities like penetration testing.
Using a wireless analyzer, you'll need to check for unauthorised access points at least once a quarter. External IP and domains (ASV) should be scanned by PCI-approved scanners every quarter for internal vulnerabilities. In addition, penetration testing of both applications and networks should be performed annually.
Step 12: Create an information security policy.
Organizational focus and cooperation are required in order to complete PCI compliance. An information security policy is developed, implemented, and maintained for the entire organisation. Employees, managers, and others are all included in this.
Every year, evaluate your information security policy and distribute it to all of your employees, both internal and external. User awareness training and background checks are also necessary to avoid illegal access to customer information.
The PCI Data Security Standard Checklist
Ensure that the following things are checked off of your PCI DSS compliance checklist before employing a PCI Qualified Security Assessor (QSA):
Start up your firewall.
A firewall implementation and upgrade plan should be drawn up.
Check and test your firewall on a regular basis for vulnerabilities.
Keep your firewall up to date with the most recent updates.
Default settings for the vendor should be upgraded.
New devices and software should have their default settings and user accounts scrutinised.
Make necessary adjustments to counter both external and internal threats to your network.
For documentation purposes, keep track of all PCI DSS-compliant system components.
Always safeguard customer information.
Create a PCI-compliant data collection, management, and disposal policy.
Make good use of encryption and PAN masking to keep your data safe.
Describe the process of creating, storing, and managing cryptographic keys.
Cardholder data can be encrypted while it is in transit.
Ensure the safety of your private and public networks.
Don't use email, instant messaging, or SMS to send PANs to anyone.
Ensure that all staff are familiar with PCI-compliant methods of data transmission.
Your antivirus programme should be updated.
All PCs and servers should be protected by anti-virus software.
Ensure that any anti-virus software is always monitoring and logging suspicious activity.
Ensure only administrators have access to your antivirus software's settings.
Only software and hardware with high levels of security are allowed.
Secure new hardware and software by enlisting a PCI compliance firm to assist.
Following any vendor-specified upgrades or security patches released within a month of each other
Ensure that all internal software applications are PCI-compliant.
Set restrictions on the amount of data that can be accessed.
Make it difficult for everyone but those who need it to access cardholder info.
Key cards, codes, and biometrics can all be used to tighten up security at the door.
In order to prevent internal breaches, make sure your workers are educated on cardholder access regulations.
Ensure that user names and passwords are correct.
Assign and remove user IDs.
All users should have two-factor authentication (2FA).
The passwords and user IDs of existing group members should be erased. They are forbidden by PCI DSS.
Ensure that only authorised individuals have access to the physical locations.
Physical access can be monitored by means of CCTV or other surveillance cameras.
To make a clear distinction between employees and guests, consider using badges or name tags.
Old flash drives and other physical media storage devices should be thrown away.
Log all network connections.
Identify and keep track of all network devices that are linked to particular users.
Automate the development of network audit trails for documentation purposes.
Keep an eye on your security logs for any unusual behaviour.
Keep a close eye out for hackers.
Set up a quarterly vulnerability testing programme with a PCI pen-testing partner.
Keep an eye on your network and application security.
A change detection system is used to compare important files on a weekly basis.
Plan out your approach to information security and make a plan for it.
Identify the most important people in the company from all departments.
creating an information security policy for your PCI-compliant business partner
Ensure policy implementation by conducting annual employee training.
Violations of PCI regulations might have serious ramifications. There are fines of $5,000 to $10,000 per month if a data breach is discovered and subsequent investigations show that you were not complying with regulations. On top of that, a data breach caused by a failure to follow PCI DSS requirements could harm your company's reputation.
The Future of PCI Compliance
PCI DSS v4.0 may not alter the six primary objectives or the twelve essential requirements in any significant way. But new financial technology and payment innovations will necessitate improvements in PCI compliance assessment methodology and procedures. Flexibility in PCI DSS compliance can be achieved by focusing on both the technology and the business processes involved in compliance. You may have installed firewalls and anti-virus software, but how does it all fit together?
Updated guides and information on PCI DSS v4.0 can be found with Extreme Compute's help section. A good place to start when you're just getting started with PCI compliance is to evaluate its aims and requirements with key information security personnel. Consider engaging with a competent PCI compliance partner to close the gaps after finding them.