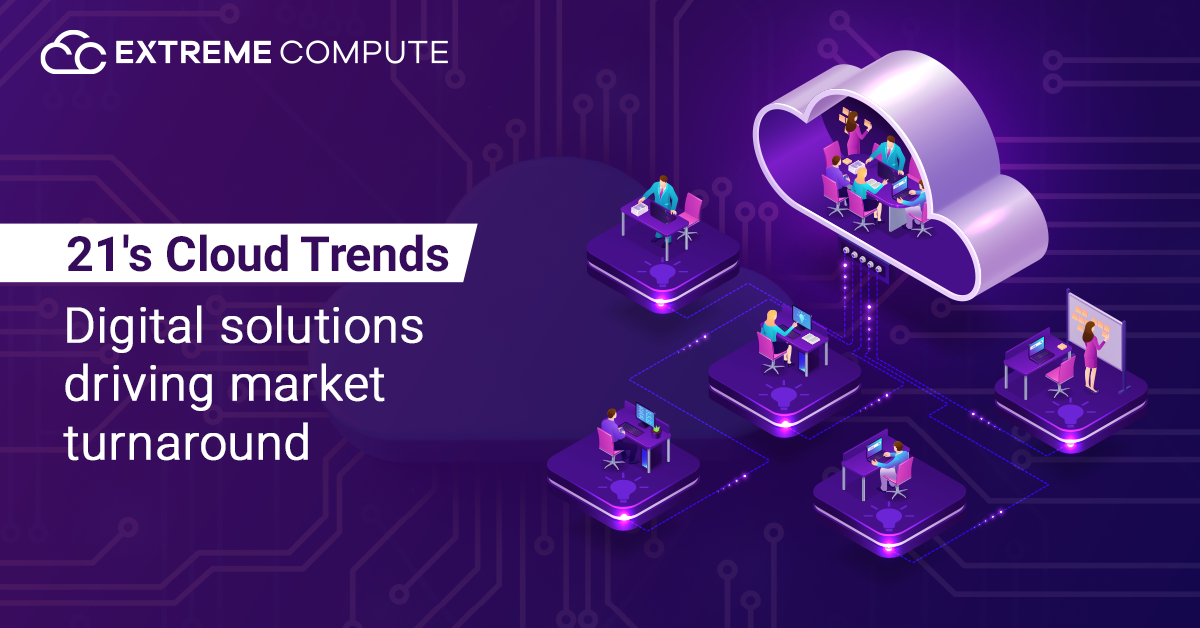 Disruptive innovations are changing the way we do business and work. Consumers are becoming more empowered as a result of these developments, and businesses are being forced to adapt or risk being left behind. Businesses are at a critical juncture. According to the International Monetary Fund (IMF), global GDP approximately fell by 4.4 percent in 2020.
Organizations in every sector are accelerating their transition to digital solutions to allow this recovery. In the face of changing consumer demands and regulatory structures, turning to cloud technology offers to solve their most difficult challenges and unlock opportunities. The pandemic is thought to have accelerated the use of emerging technology to support consumer and supply chain transactions by three to four years. The most creative businesses must reconsider how workers communicate and how consumer interactions can be digitized.
Here are some cloud trends that are fueling market turnaround:
Preparing for a futuristic solution while cutting costs
Business heads are always looking for ways to optimize their companies. Purchasing, maintaining, and updating the technology infrastructure required to operate a company is not only challenging, but also increasingly costly. Having a fixed IT systems require users to reliably forecast their future needs, which is no longer necessary with our rapidly evolving market environment. A cloud server, on the other hand, guarantees that you only pay for what you need, allowing users to change their usage as needed to meet changing demands. This frees up resources for companies to reinvest in building consumer interactions that fuel value development. According to Gartner, infrastructure-as-a-service will rise 27.6% in 2021, owing to cost savings and operational efficiencies, which are two of the biggest advantages of moving to the cloud.
Businesses are implementing a digital entrance
Because of the remote nature of our lives, companies are increasingly turning to data and analytics to better understand their customers and improve their overall experience. Customers' expectations for digital alternatives have accelerated as a result of lockdowns. Face-to-face customer support – getting a physical front door – is no longer adequate to keep a growing organization alive. Customers now expect a "digital entry," which extends to nearly every industry. AI and machine learning are being used in retail to have a greater, more reliable online experience. Stable, scalable platforms that enable digital patient visits are needed by healthcare providers.
Public units are also changing how they operate as a result of digital front doors, such as using the cloud to administer unemployment insurance electronically. Businesses can use data and analytics to make better choices and get closer to their customers by creating more useful and profitable products as a result of digitisation. Companies will remain agile during the pandemic if they invest in creative digital front doors now, pivoting with changing consumer preferences. Companies should celebrate the versatility of digital experiences, which can be personalized without compromising efficiency.
Accepting that change is inevitable:
The very concept of "workplace" has changed. Although the pandemic as we know it will eventually pass, our modern way of functioning is here to stay, and it has increased the need for people to reconsider how they function. We see the need for a new hybrid work environment, where companies and employees can use a digital workspace that allows them to collaborate on a flexible, cloud-native platform to generate new ideas and connect with each other. Companies must keep their employees involved, active, and linked while reevaluating current communication and collaboration tools in order to make a successful transition into this new period of work.
No one can predict what the next few years will bring, but businesses can monitor how they react to uncertainty by investing in agile technology that puts people and connection at the core of their operations. Before embarking on a cloud-based digital transformation path, businesses should first gain a thorough understanding of the cloud. Private, public, and hybrid deployments are the three options and then there are SaaS, PaaS, and IaaS service models to remember. Before implementing digital solutions, businesses must first consider what each of these terms entails and what responsibilities come with them.
{{cta('446e87af-239b-4dbf-9f41-25cdc55c7418')}}