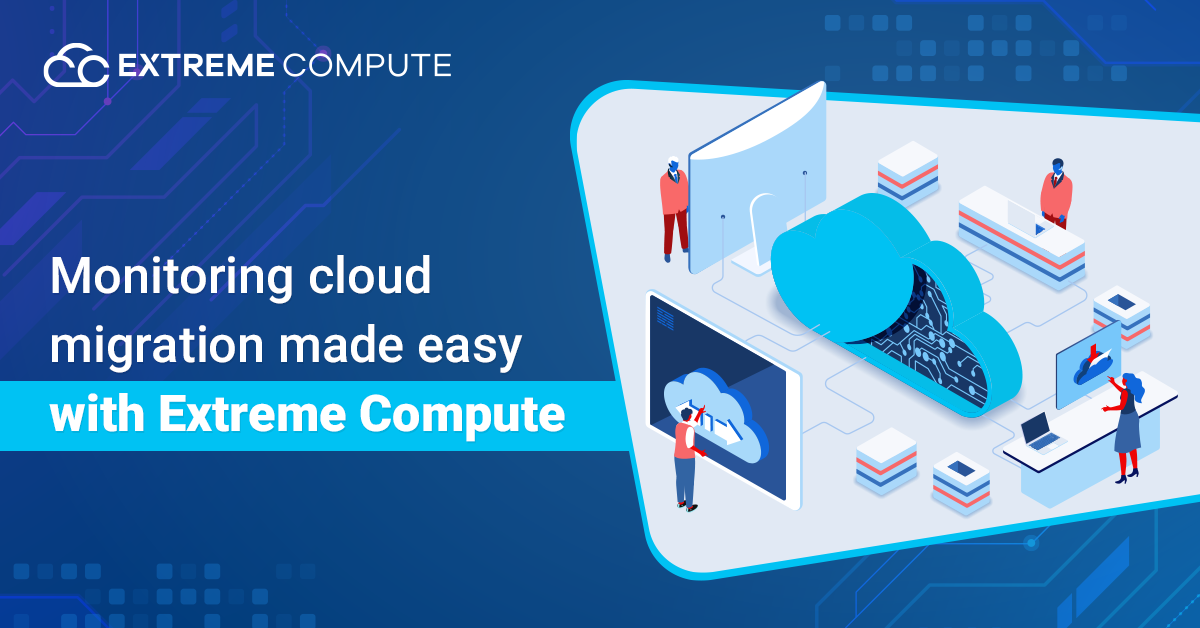 In 2021, 85 percent of IT decision-makers expect to raise their budgets, with cloud transformation being a top priority for 65 percent of businesses. If you are implementing a migration this year, it's important to understand how to monitor the progress. Almost every business has shifted some of its operating processes to the cloud. DevOps professionals are an integral part of migration initiatives, helping with the migration process and ensuring that applications work as expected after the migration.
You must get monitoring right for your next cloud migration to be successful. While the program is still running on-premises, during deployment, and once the new workload is running in the cloud, applications must be managed at all times.
What to keep an eye on when Transitioning to the Cloud ?
A cloud migration involves a large number of components. There are many approaches to cloud migration—each migration is different, and different metrics may be needed. When it comes to tracking the cloud migration phase, there are a few things to keep in mind:
Monitoring Traffic
Tracking application traffic will help you ensure that application settings are correct and that the entire application is available. Make sure that all queries are routed to the new server, and track the error rate. Also, keep an eye on response times and make sure your app isn't going beyond its allotted time.
Keeping Track of your Expenses
Keeping track of expenses will help you avoid incurring unanticipated losses. The majority of businesses are moving to the cloud to save money. In order to avoid cloud services being used incorrectly, work closely with your migration support team to gain insight into the costs and integrate natively into the pipeline, track costs, and view visualized data in personalized dashboards. Migration tools can also be used to create warnings for your business specific requirements.
Application Security to be Monitored
During and after the migration phase, application security monitoring will assist you in detecting security vulnerabilities and accidents. Internal traffic, host open ports, and instance processes that are actively accessing various resources are all things to keep an eye on. Keep an eye out for API hits per second, as this could suggest a distributed denial of service (DDoS) attack.
Monitoring from Inception
The prepare, migrate, and run phases are the three key phases of the migration process.
Step One is to Prepare
Until migrating, the plan phase allows you to evaluate the success levels of your applications. The aim is to gain a comprehensive understanding of how workloads operate prior to migration as well as the current state of user experience. This knowledge can then be used to create performance baselines and benchmarks. Error rates, page load times, and slow transactions can all be used to create configuration warnings that monitor outages during the cloud migration process. The situation can then be easily diagnosed and fixes applied to ensure application health during and after the migration.
During the planning process, consider the following questions:
What effect would the migration have on the user experience?
What are the technical challenges that could occur during the migration?
Is the company's network capable of handling increased bandwidth demands?
What are the first steps in the migration process?
Phase of Migration
All processes needed to securely transfer modules from one location to another are included in the migrate step. Throughout this phase, you should keep an eye on results to ensure that the user experience stays within the pre-determined parameters. You must recognize possible roadblocks and problems, as well as constantly track and verify the migration process, to ensure application efficiency and reliability. Sensitive factors such as application response time and call counts should be tested, and problems should be resolved quickly.
Time for Run Phase
After the migration process is finished, the run phase begins. You must develop constructive monitoring processes during the post-migration period. The aim is to ensure that your application runs smoothly in the cloud, using the appropriate resources and generating minimal overhead. You should also keep an eye out for any changes and review any individual variables that might be causing problems. You should also ensure that all interactions between applications are preserved after the migration. All this activities can be performed and monitored along with the support of migration expert teams.
Monitoring Cloud Migration with Extreme Compute
Extreme Compute offers tools for automating migration to the EC cloud as well as assisting with critical aspects of monitoring. These resources are provided in the best interest of facilitating a smooth and painless migration.
The following are some of the migration monitoring features offered by EC cloud:
– Workload validation for migration compatibility
– Tracks the progress of server and database migrations and their current status.
– Reports on migration compliance issues
– Monitoring continuous data replication.
– The ability to revert migration to on-premises systems if anything goes wrong.
Monitoring is essential for a successful cloud migration, and monitoring can be used at any point of the process. If you intend to use cloud computing to tighten your competitive advantage and improve your organization's flexibility, drop your queries below for a tailored solution on cloud migration.
{{cta('446e87af-239b-4dbf-9f41-25cdc55c7418')}}