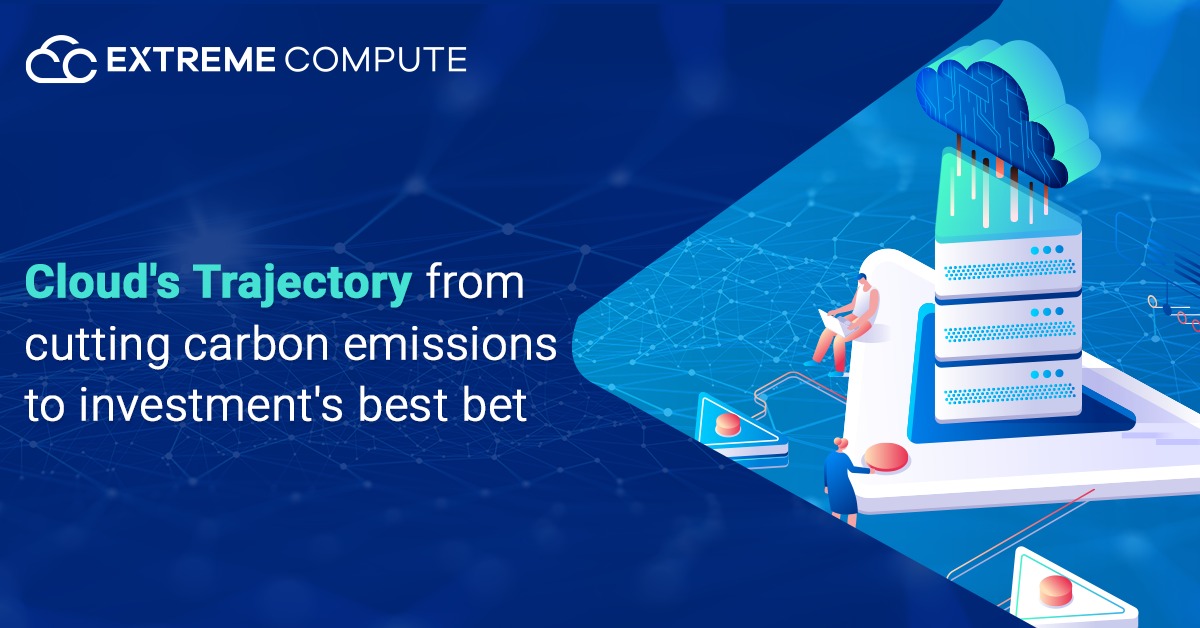 According to market reports, cloud computing is helping to minimize carbon dioxide emissions, with the ability to prevent more than 1 billion metric tons of CO2 from 2021 to 2024. The consolidation of discrete enterprise data centers into larger-scale facilities that can better handle power capacity, maximize cooling, use the most power-efficient servers, and increase server utilization rates has been a key factor in lowering CO2 emissions. The benefits vary from region to region and country, with the greatest benefits possible in areas where coal is currently used for power generation, such as the Asia-Pacific region.
Aside from switching to cleaner energy sources, minimizing wasted energy is also important. The physical environment of cloud data centers is optimized to reduce the amount of energy used to cool the environment. The aim of an energy-efficient datacenter is to spend more energy running IT equipment than cooling the atmosphere in which it is housed. Shifting workloads to areas that use renewable energy sources like wind and solar can also help minimize CO2 emissions.
If the current percentage of green cloud datacenters remains constant, the cloud migration alone will save 629 million metric tons over the next four years.
By 2024, 1.6 billion metric tons of CO2 could be saved if all operating data centers were built for sustainability, with technologies and processes in place to allow smarter data centers.
Green IT has been around for a while, but the direct effect of hyperscale computing on CO2 emissions is gaining traction among consumers, regulators, and investors, and it's beginning to influence purchasing decisions. The true measure of commitment would be building datacenters from the scratch to be carbon neutral. Contrasting workloads with renewable energy availability can help advanced cloud providers achieve their sustainability targets even faster. The Covid-19 pandemic has generated a multitude of problems and continues to have a multi-sector effect on nations and people alike, from rapidly evolving consumer preferences to heavily influencing economies around the world.
With the implementation of vaccines, 2021 seems to offer a fresh ray of hope to economies across the world, but the reality remains that this year will be characterized by the 'survival of the fittest,' meaning that companies that go digital and adjust to the 'new standard' will be in a stronger place to withstand the Covid-19 crisis. Cloud computing is unquestionably going to be a mainstay of large businesses. At this time last year, the world had only just begun to note the viral impact of the novel Corona virus outside of China. Cloud service providers had a likely productive year, focusing on the need to drive processes remotely and safely.
OpEx cost models with benefits of Cloud
Prior to the pandemic, cost control was always a top priority. However, subsequent disruptions have raised its priority even higher in the priority list. Start-ups and businesses are looking for information to help them deploy flexible cost models, especially in pay-as-you-go services. Businesses can achieve scalability of services by using OpEx to get a maximum of their costing parameters. Cloud ecosystems have complete versatility and scalability in the development and management of critical business processes. Enterprises can gain the follow with using OpEx as a cost model and cloud as a deployment model:
Improve the speed of installation, updates, and on-demand flexibility. Businesses can take advantage of regular product updates due to the shorter approval period in OpEx.
Cloud computing removes the need for routine maintenance and site visits. The OpEx model makes it possible to find cloud hosting services that provide stable networking infrastructure and enterprise-level security.
Edge Computing is gaining ground
Edge computing takes storage and processing closer to the point where data is consumed. It saves bandwidth (and facilities) while encouraging service providers to reach their customers locally, in addition to ensuring quicker response times. Beyond colossal data centers and centralized management of public clouds, cloud service providers will try out new business models. Nonetheless, it continues to pursue computing creativity in conventional clouds while growing business agility. Edge computing helps companies to develop real-time analytics and make more informed business decisions.
Cloud's forecast for the future
The cloud had already developed itself as a powerful force and the pandemic only served to demonstrate that most business processes can be handled remotely with the right cloud implementation. With the years to come, cloud will have successfully helped cut carbon emissions and also stand out as the best investment in IT infrastructure. It is only a matter of time till organizations shift their focus to futuristic investments.
{{cta('008d9ed3-3b50-4e38-bece-f483b642d549')}}