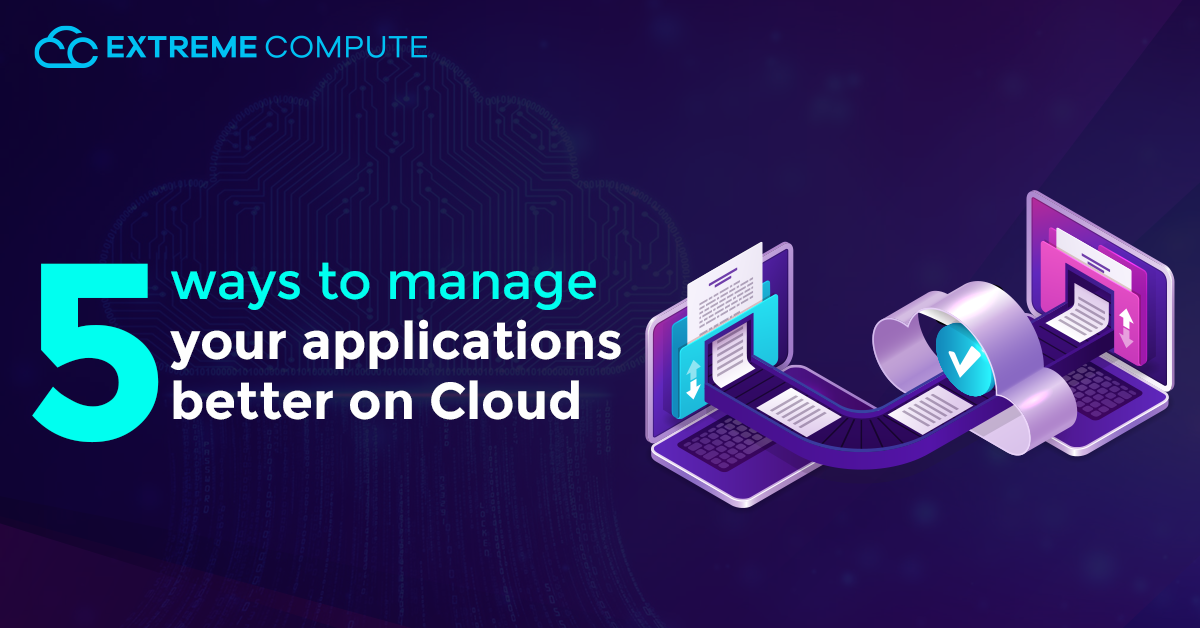 Businesses around the world began adopting SaaS platforms and cloud apps in massive numbers last year to better accommodate remote workers. As firms migrate to hybrid employment patterns in the post-pandemic era, this trend hasn't slowed. CIOs and their IT teams are now focusing on effective cloud infrastructure management to ensure that they are streamlining admin operations, managing risk, and getting the most out of their technology investments. Today, multi-cloud application management is a critical component of application management.
Today, there are numerous cloud options available, each with its own set of characteristics. Learning what to anticipate from your cloud service provider can have a significant impact on how you manage your cloud apps. The very first step in cloud-based administration is to find a vendor that suits your company's demands. Let us look into the best practices that are being used by businesses that will help you manage your cloud applications.
Don't shift everything into the Cloud at the Same Time
When it comes to migrating programs to the cloud, move them in stages rather than all at once. An incremental advance allows you to test and troubleshoot each step before going on to the next. This can also help to guarantee that valuable constituents are available when they are needed, reducing downtime. The cloud isn't appropriate for every application. When shifting apps to the cloud, it's important to think about the actual benefits. Some programs, particularly legacy apps, may not work effectively in the cloud.
Create a strategy for Application Management
Moving to the cloud necessitates a strategy for monitoring and managing application performance over time. By implementing an application management approach, you can ensure that the application lifecycle is monitored closely. Companies may adapt and develop while also monitoring performance using application management. Implementing applications without a strategy for managing them can lead to unnecessarily increased complexity.
Make sure you have enough Backup and Failover
It's critical to understand what happens to your operations in the event of a service outage or worse. Prepare for the worse and create backups of program data and settings on a regular basis. Make a backup retrieval and assessment strategy. A regular backup strategy is only useful if the backups are functional. To ensure that there are no long-term service outages, failover is required. Even when it comes to failover preparations, transparency is crucial. Data storage and access laws and regulations should be followed in the letter.
Evaluate your Contracts
Ensure that your firm completely comprehends the terms of cloud provider contracts. Before signing any contract, consult with in-house counsel or maybe another trusted legal professional. A thorough examination of cloud provider contracts might provide information about the provider's expectations for the business partnership as well as who owns the data. It's best to avoid a cloud service that assumes data ownership. To avoid any problems of liability or intellectual property rights, make sure your organization owns the data.
Make use of a Multi-Cloud Strategy
Switching to a sole cloud platform simplifies management, but it ignores future requirements. Cloud computing isn't a single service; it's a collection of services that may be combined to satisfy a variety of business needs. Current business requirements may differ from those that will emerge in the future. The same may be said for cloud service providers. A multi-cloud architecture allows for additional flexibility in terms of availability and adds a layer of redundancy.
Choose the Right Partner for Your Business
Working with the proper partner is critical to any company's cloud strategy since it prevents vendor lock-in and allows them to choose the finest cloud provider for the job. Get the right cloud infrastructure from the start, and as cloud technology advances, application management will be seamless. Get a cloud with a future plan for your business.
{{cta('446e87af-239b-4dbf-9f41-25cdc55c7418')}}